Neftali after researching the baboon "Drill leucophaeus", found out they were the #1 endangered primate in Africa. Neftali feels he has spiritually connected with the Drills and their Plight.

He reached out and found a hand full of people that feel the same way he does about helping the Drill.

Together they are trying to keep the Drills from going extinct.

Although they have never met in person yet, Liza, Peter, and Neftali have had an understanding and bond for years. Neftali has made a commitment to Pandrillus to spread the knowledge of the Drills plinth as well as raise funds for the Foundation. Neftali is quoted as saying" It's really frustrating

Neftali met Gail Hearn Ph.D. who flew out to see Neftali perform in Amsterdam in 1999 at the "Drum Rhythm Festival. Gail heads up the Bioko project, Bioko being one of the only places Drills are still spotted in the wild.
Neftali meet
Rolland Wolf
curator for the Drills at Hannover Zoo in Germany. The two had a very good talk about the survival Drills and helping Liza, and Peters Drills. Rolland follows Liza in successfully breeding drills in captivity with eighteen Drills at the Hannover Zoo.

Cathleen Cox Ph.D., was the first biologist Neftali made contact with. Cathleen is head of animal research at the LA Zoo and also teaches a course at UCLA. Cathleen is also a member of S.S.P. and A.Z.A).

Cathleen has been consistent in educating Neftali about Drills. She's given him information about drill behavior and observation as well as news about Drills and Mandrills all over the world. Cathleen is also a stud book keeper of Drills and Mandrills.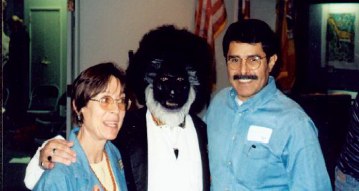 Cathleen Cox, Funkadrill Manuel A. Mollinedo, LA Zoo Director.