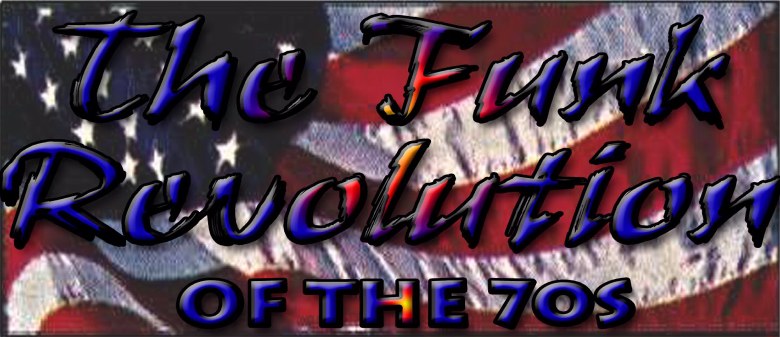 By Neftali Santiago
copyright 1999


The "Funk Revolution in the seventies was a pioneering experience for allot of bands. The movement was a blend of rock and soul mixed with flavors from the region the bands were from. Funk Bands played their own instruments and were self contained. The list is long but the list does come to an end as far as the ones pathing the way in my opinion:
James Brown, Sly and the Family, Buddy Miles Band, Mandrill, Funkadelic, Earth Wind and Fire, Barkays, Ohio Players, Kool and the Gang, War, Osibisa, Tower Of Power, Red Bone, Rare Earth, Average White Band, Rufus. and Gram Central Station. It takes my breath away even getting all the names out but you can see the pioneers stop at this point. These are the bands that performed the "Funk Festivals" circuit. For 5-7 dollars you could see up to four top groups on the same bill. Each band would be in direct competition with one another pulling for top bill. Each band had their regions they were more popular in than the other bands so the headliner changed all the time. One night "Mandrill" would headline the next night it would be "War" and so on and so on.
Concert Promoters
Black promoters were just catching on to funk groups drawing big at the box office. They watched agencies like ATI put Mandrill with Deep Purple, and Earth Wind and Fire with Uriha Heep. A result of the combinations were black and white audiences filling stadiums across the Country. There were promoters like Bill Washington who was successful promoting R & B shows and did his best to make sure everything went right. Then there were promoters like Teddy Powell who didn't know how to handle big crows and was focused on the box office and not putting on a quality event. Many black promoters were like that in the day. I've seen people stabbed right in front of me at the Spectrum and a women being thrown off the balcony. I've been beat-up myself at a show in Atlanta. There was a riot at Randels Island when the bill was Mandrill headlining with Buddy Miles, Rufus, Rare Earth, and Funkadelic.
The stadium is on an island and only one way in and out. The stadium was packed with forty thousand angry people waiting for the show to start. The reason it was delayed was the sound system was a sure vocal master p.a. with like eight speakers on each side. The system could not fill the front rows let alone the stadium. Funkadelic took the stage and did pretty much their hole set. The crowed began to riot beating-up venders and stealing their money and goods. Rufus said no, were not going out there. Buddy said no. Rare Earth went on for twenty minutes before the crowed started moving on the stage. They stopped and boarded a van that drove them to their dressing room. People tried to turn over the van as it made it's way. The police brought in riot officers with shields and full riot gear. They came into our dressing room and approached Mandrill and basically told us we had to play. The crowd was screaming, Mandrill, Mandrill! and the police were trying to minimize the danger. We went out and performed for thirty minutes before the crowed started making there way to the stage. The riot police had joined hands around the stage but when the crowd rushed the stage they left. People were all over the stage grabbing what ever they could and basically jammed with the band. We knew it was time to move out, a bottle had broken on my drums and up to my face hitting the boom. I perform barefooted and when the call was made to leave the stage my platform shoes were gone. I looked up and the band was in a limo driving to the dressing room. I was mauled by two girls that wanted my scarf, the only problem with that was it was still attached to my neck. They choked me not realizing it was in a knot around my neck. I felt like Qunte' Keenta.
MANDRILL:
Mandrill exploded on the music scene in 1970 with a new sound that went way beyond the Funk barrier. Funk is what the band is best known for. In 1972 I was blessed to be apart of the 70s "Funk Revolution". I recorded my first lp with "Mandrill" late that year. The above picture was taken at "Electric Lady Land" in 1972 at my very first recording session. The lp "Composite Truth" combined the magic between the Wilson brothers on horns, percussion, and vocals, Claud Coffee Cave on keys and vocals, Omar Mesa on lead guitar and vocals, Fudgie Kae Solomon on bass and vocals, and me on drums and vocals.
The Mandrill lineup from Composite Truth was a powerful force that packed stadiums across the world without a top 20 hit. Mandrill's career spanned the globe first conquering New York; Lincoln Center Philharmonic Hall with Duke Ellington (the Queen of England in attendance), Lincoln Center Philharmonic Hall to perform with a 100 piece orchestra and a 200 voice choir, Carnage Hall twice, Madison Square Garden four times, Central Park twice for more people than could be counted, Cathedral of St. John the Divine with Bett Midler, the Apollo for 7 day performence runs. The band went on to conquer Philadelphia, Faremount Park, this is where I saw Mandrill for the first time, and headlining The Spectrum five times. In Washington DC Mandrill sold more tickets than The Rolling Stones at R.F.K. Stadium for 85 thousand fans, and headlining Constitution Hall three times. Mandrill went on to dominate the entire East Coast, and then on to the South before moving on to perform all over the world. See the
Mandrill Years
contained in this sight.
Osibisa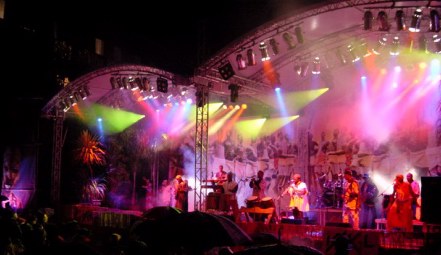 OSIBISA exploded onto the music scene in 1971 with a pulsating and vibrant sound that was to engulf the tired post 60's rock scene. Translated from Ghanain OSIBISA means "criss-cross rhythms that explode with happiness".The band's percussive influence began to manifest itself within the music of their contemporaries. The OSIBISA poly-rhythms and percussive breaks were to be an integral feature of the disco boom that was to follow in the late 1970's.OSIBISA's unique fusion of African, Caribbean, rock, jazz, Latin and R&B paved the way for other potent music forces such as Bob Marley and the emergence of African music in the 1980's. Indeed OSIBISA are seen by many as the Godfathers of World Music.One of the important reasons for OSIBISA's enduring success has been their highly energetic and extravagant stage show. For many years now they've toured tirelessly, headlining numerous festivals and performing in every far flung corner of the globe. Highlights have included a major tour of India, which resulted in a No. 1 Gold album - an unprecedented achievement for a Western band. The mid 90's has seen a reemergence of OSIBISA in North America where African and Reggae music are gaining in popularity. OSIBISA have recently played festivals in New York, Los Angeles, Ghana, Capetown and the legendary Cropready Folk Festival (in the UK) which was filmed by famed director Ken Russell. Osibisa have recently been honored by President Jerry Rawlings in Ghana where they played a series of concerts celebrating their homecoming. A film of this event is currently being made into a television program. "The enthusiasm shown by the Ghanian people especially the youth was quite amazing" recalled Teddy Osei, Osibisa band leader. In appearance at the Rugby World Cup will be made by the band at the Visitors Centre in Cardiff. However Osibisa has just returned form Budapest, Hungary where they worked a sedate TV audience into a fury much to the delight of the programs director. With recent sold out appearances in London, Shrewsbury and Hemel Hempstead it looks like Osibisa's renewed popularity will forge ahead into the next century.As Osibisa heads of for the millennium it will be the bands 30th anniversary. A book, an album, and a series of concerts and events are being planned to mark this occasion.
Earth Wind & Fire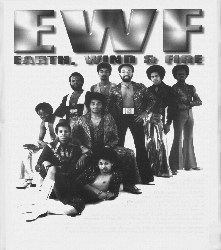 We all learned allot back then. Most groups stayed within their own circle because of the competitive edge we all had to maintain. I knew all the bands from listening to their records and wanted to make a connection so I did. I remember sitting up with Andrew and Al from Earth Wind and Fire when they still had a raw funk vibe to them. They too where new members at the time. We exchanged mutual respect for each others work as well as the tour goings on. E.W.F. had that love thing going on real strong and audiences ate it up. I don't really consider them as a funk group. Their more R&B. Back in the day they had a raw-funk element that was their own that's for sure. Their theme song "Power" was the bomb!!. Larry Dune on keyboards, with Philip Bailey on vocals, Andrew on sax, and Al on guitar was a great combo with the White brothers. No big horn section just Andrew playing in the pocket.
Kool and the Gang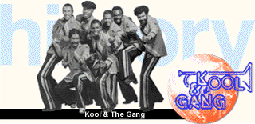 Kool In The Gang. They were Muslim back in the day.They came on stage wearing suits, playing their butts off showing very little expression. "Summer Madness" was the jam. No lead singer which was great, mostly instrumental songs with a group party vocal. The trumpet player Larry Guitens and I were in the "Soul Sets" together.
Parliaments 1955 Funkadelic 1969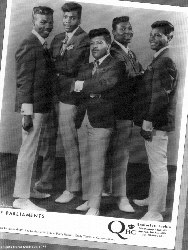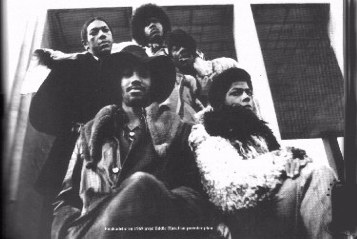 I grew to love Funkadelic. I spent some real quality time with the brothers of funk. The lifestyle and their music are one in the same. Funkadelic made many sacrifices along the way. They would all stay in one suite to save money. Mandrill flew to most dates and Funkadelic drove sometimes missing dates because there just wasn't enough time to get there. The Funk's were as raw as raw could get. George went through his peeing on stage phase which caused allot of attention. Funkadelic had a hard time being accepted by Mandrill audiences. Gary, Boogie, Eddie, Tiki, Bernie, Calvin, Grady, Fuzzy, and Ray, was the Funkadelic group I feel in love with. They overcame all the odds and wound up building an Army of fans. I'm not sure what to make of the "P-Funk All Stars" concept. I got a chance to jam with the all-stars in 1994. It was a gas.
What I do know is the band "Funkadelic" from the seventies are true legends along with Bootsy and Big Foot who took the band to another level of record sales and landed the Mother Ship in the Hall Of Fame. The chemistry between the writing calibrations is what made the music so accepted.
I got to spend some time with Tiki Fulwood before he past away. We talked about doing an lp with the two of us battling our drumming styles in an animated W.W.F. kind of way. He had bone cancer and it became too painful for him to play. That battle would have been something to hear. I wrote two songs with Gary and Boogie that will be released in 2002.
The original vocal line up can be heard playing basically the same set as P-Funk All-stars" probably even better without the drug thing driving them. They are called "Original P".
WAR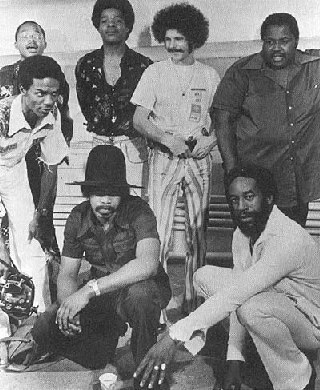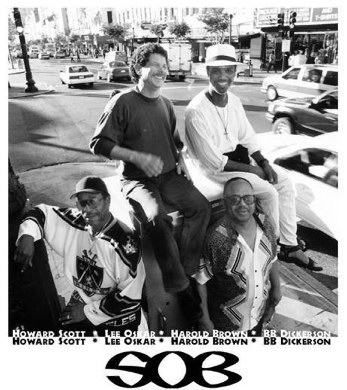 War
The picture to the left above is of the original War line-up. To the right all of the remaining original members minus Loni Jordon. Loni has the name and tours with a band he put together singing War songs, many of which he wrote. The rest of the original War group are forced to call themselves SOB. The band was called the "CREATORS" and they played the Southern California circuit. In 1967, they changed their name to "NIGHT SHIFT" performing in and around Hollywood. Then in '69, "Night Shift" core members played in a group called "WAR". In the year 2001, the soul of this band has evolved into the "Quintessential Jam Band - SOB, the essence of raw funk grooves created spontaneously in front of live audiences.
Anyone who has experienced the catharsis of their [Howard Scott, Lee Oskar, Morris "BB" Dickerson and Harold Brown live shows knows that the legendary performers and writers [ SOB] is much more than a catalogue of platinum records and hits like "Low Rider," "Slippin' Into Darkness," "Spill The Wine," and "Cisco Kid." This is a band with chemistry; a band that can build a Latin tinged groove like a force of nature and take it to the depths of funk, soul, r&b, and jazz. A Group of Musicians that Melody Maker in 1970 called, "the best live band we have ever seen." The band that played Ronnie Scott's London jazz club with Jimi Hendrix, marking his last jam on earth; that had their song "Why Can't We Be Friends?" beamed into outer space during the historic link-up of U.S. astronauts and Russian cosmonauts in 1975; that, in 1977, released the first album to go platinum for the prestigious Blue Note jazz label, Platinum Jazz, and then in the same year released a classic hit record from the disco/funk era, Galaxy (MCA). On stage, this versatility and experience translates into effortless spontaneity. Quite simply, anything can happen.
Scott, and Brown formulated a plan to regain control of their lives, which they had started as teenagers in [Long Beach and Compton Ca.]. They would relocate to New Orleans (where Brown had been living since 1983), Howard Scott (Now living in Arlington, TX.). Once ensconced in such friendly territories, they would reconnect with original rhythm section member B.B. Dickerson the "Crooner" (Living in California) and Lee Oskar (Now living in Seattle, WA.) with his Creative horn lines that made the sound of all of their legendary hits so famous. Now touring and doing shows under their name SOB "PERFORMING THEIR CLASSIC HITS" ....LOW RIDER, WHY CAN'T WE BE FRIENDS, CISCO KID, THE WORLD IS A GHETTO, SLIPPIN' INTO DARKNESS, AND MANY MORE.
Now that Howard Scott, Lee Oskar, BB Dickerson and Harold Brown are touring their plans have become a reality, to the delight of their true fans everywhere. As their recent performances attest, THE RAW ESSENCE IS BACK. True to their original mission, they continue to evolve and push the boundaries of popular music. Of course, The owner [Far Out Productions] of the name War slapped an injunction on them, which prevents them from using that name; They can not say formerly or founding members. However no dates have been canceled and true fans have been coming out in droves anyway, as if to lend weight to Shakespeare's proverb......
Working with War was always interesting. The rivalry between them and Mandrill locked on quite a few occasions but kept both bands sharp because of it. Mandrill's power was strong and we were really in a class by ourselves. That power made it hard for other groups to follow us. I love War don't get me wrong. Their groove was West Coast Street, slow, and funky. The harmonies were great. Again I say the band "War" was great.
I tuned on the TV recently and War was announced to be on BET. I ran to the TV. When I got there all I saw was Mr. Jordan. I remember saying, I thought it was War. T
Ohio Players: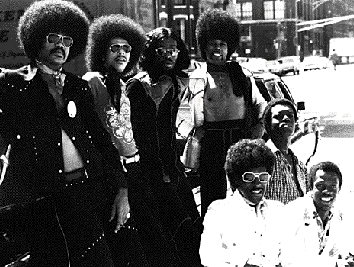 Ohio Players took the funk a hole different way making pop records that exploded live. There sound would later make "Cameo" famous. Junie, Satch, and Diamonds I got to know pretty well. The band was humble never ego tripping like some bands I talked about earlier. Fans loved them and so did I. The players are still performing but not with the same fire that set them in a class by themselves. If you have a chance to catch a show, do it you will still love hearing the old hits that are still played on the radio today all day long as well as TV commercials.
Bar- Kays: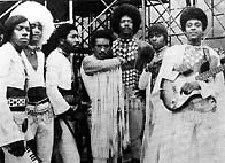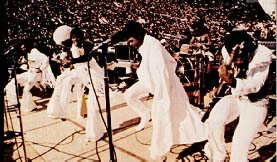 The Bar-Kays were formed in Memphis, Tennessee sometime in the mid-sixties and originally consisted of James Alexander (bass), Ronnie Caldwell (organ), Ben Cauley (trumpet), Phalon Jones (sax), Carl Cunningham (drums) and Jimmy King (guitar).
In early '67, they were signed to Volt, a Stax subsidiary. Al Jackson, the drummer with Booker T & the MGs, took a special interest in the Bar-Kays from the start and groomed them into a funky, instrumental R&B combo in the Mar-Keys' mold. Soon thereafter, the Bar-Kays became Stax' second house band, supporting Sam & Dave, Otis Redding and many other of the label's premier artists. The Bar-Kays' first single in their own right, "Soul Finger," became a huge hit on both the R&B and pop charts in the spring of '67 and an album with the same title was issued as well.
That summer, Otis Redding chose the Bar-Kays to be his regular backing band and it was on route to a gig on December 10, 1967 that tragedy struck. The plane, carrying Otis and the Bar-Kays, crashed into the frozen lake Monono, near Madison, Wisconsin. Everyone on board was killed except trumpeter Ben Cauley, who miraculously survived and bassist James Alexander, who had not been on the plane.
By the time they signed a contract with Mercury, the Bar-Kays' line-up had stabilized and would remain the same (with two additions) until the mid-eighties:James "Knuck" Alexander (bass, vocals), Charles "Scoop" Allen (trumpet, vocals), Larry "The Eye" Dodson (lead vocals), Harvey "Joe" Henderson (tenor sax), Lloyd "Lucious Lloyd" Smith (guitar), Winston "Winnie" Stewart (keyboards), Frank "Capt. Disaster" Thompson (trombone) and Michael "Buckboard" Beard (drums).
Late 70s & 80s:
The eighties came about and the first funk music pioneers had a hard time battling disco.
There was a second funk wave in this time period. Bands like Rick James, Cameo, Slave, Heatwave, Lakeside, Sun, Zapp, GQ, Rose Royce, Brass Construction, BT Express,The Gap Band, Con-Funk-Shon, Brick.
Allot of funk acts gave-in and the revolution turned into rebellion between band members.
Most bands had at least one person who thought their contribution to the band was more significant than the others.
This caused a big problem and a lot of members wound up leaving their groups, members that had been around for years building up the name of their band. All the original members from recordings contributed to the sound of their bands regardless of who wrote the song.
This really wounded the funk movement with almost all bands going through major changes.
If that wasn't enough we still had to survive the disco eighties.
The original sound was gone from most groups.
There were no funk bands in the nineties I think because there were no groups in the eighties.
The art form was dyeing out. There were no bands to carry the art form to a new generation. A side from the original recorded music of the groups.
1990s:
The legends were scattered. Some tiered from drugs, some like Bernie Worrell trying to stay alive playing clean music. Real music played by the legends vs sequencers had become a loosing battle. There simply was no market for funk groups mainly because of age, and a drug stereotype connected with funk legends. Music in the 90s come out of a producers sequencer and the public got accustom to thesound. Most of us are trying to keep funk alive going into 2003.
I think funk has to make a strong comeback to survive.
2000-2002
Europe has spawned a new generation that's totally into funk. Every one seems to be coming back for performance dates in and out of the country. Some groups like P-Funk, and Mandrill just refused to give up with basically salt and pepper audiences supporting regular visits by the groups.
What's going to be interesting is to see is how many original members are in the lineups of old school groups when a Funk Fest. Reunion tour hits?
Final Thoughts
I believe legends owe young musicians the knowledge that they posses. We need to pass-on the funk art form. Funk is real and viable in today's music and must be preserved. Funk legends need to standup, be counted, and plugged into some kind of music seminar program that puts them in a classroom situation with young musicians and singers.
I was young in the 70s and 49 know but most legends are in their 50s-60s now. Time is running out for most of us to teach new Funkatiers what we know. Unlike jazz or rock funk is all feel and like I said in my theory it can not be learned from a book so for you Funk Legends who are reading this, think about a mentor ship program or anything that involves you teaching what you know.
This has been Neftali Funkadrill writting from the heart bad spelling and all talkin bout the Funk Revolution.
Funk Revolution


"The Funk Revolution Of The 70s"
copyright 1999
Written by Neftali Santiago
"A Deeper Look"
The mini book will be availible soon!!!
A Biographic view of the life and times of the Legendary Funk Drummer Neftali Santiago and his experiences with other Funk-A-Tears and Soul legends.
Visit this page in the near future and get full details.
8/21/2002